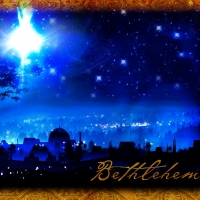 Come Back to Bethlehem
by Pastor Moh | December 15, 2013
Christmas 2013

Precious Ones:

Blessings 2 u...

As I spend time in prayer for our congregation, I am reminded of the voice of the Holy Spirit gently instructing us back in 2008 that some of the things that we are waiting upon the Lord (both corporately and individually) is going to require our tears, our faith, our patience and simply more time – the Lord's KAIROS time. So, during these seasons stay faithful, and remember...
Galatians 6:9 "Do NOT get weary in doing good, for in due season you will reap, if you do not give up!"
Isaiah 7:9b "If you do not stand firm in your faith, you will not stand at all."
Precious ones, please keep your eyes on Jesus and let Him infuse you with faith and patience through His never-ending love and grace for you! Remember what I've taught often..."A Christian life is impossible to be lived. Only Christ can live it through you." Allow the Lord to manifest His Presence through you.

It is the Christmas Season – one of the highlight moments of the Church's walk on this earth. It is a time of remembering and responding to the descent, death, resurrection and ascension of Christ Jesus. By the way none of these things would have been possible without the birth of Christ. However, this birth did not come about very easily. Joseph and Mary toiled and walked through some very tough terrain to bring about the promise of God in their lives. They trudged through the Judean countryside in the ninth month of Mary's pregnancy on a mule – just ask the moms in our congregation on how tough this is for the pregnant women. Many in the Nazareth community misunderstood Mary for being pregnant before the marriage – I call this the scandal of grace! Many Nazarenes bad mouthed this virgin daughter of Israel (John 8:41). Joseph experienced financial and personal woes – the lack of money (Luke 2:24), the lack of proper housing during the birth (Luke 2:7), the losing of "face" in front of the community (the pregnant bride Matt.1:18), the lack of an intimate relationship with his wife until the promise was fulfilled (Matt 1:24-25), and his life is in the hands of some foreign invaders – the Romans (Luke 2:1-3). Despite all these obstacles, the holy family kept moving forward. It is a lesson in faith and love for ALL of us! Let us model this at TSH.

The Scriptures show us that the promise of Bethlehem (Micah 5:2) comes about not only through the grace of God BUT also the faith and patience of Joseph and Mary. It was tiring, it got testy and it was tough! Birthing the promises of the Lord in your lives will oftentimes involve some very tiring, very testy and very tough times.

Precious Ones, I exhort you to KEEP MOVING WITH HIM.

Keep your eyes on Jesus – the author and perfecter of your faith. Behind very breakdown there is always a breakthrough, and the Lord will turn your mess into a message of hope and your test into a testimony of triumph. Be strong and of good courage.

To each precious family of the Shepherd's House, I know your challenges and the craziness of your world. Be of good cheer, the Lord has overcome it for you (John 16:33). My pastoral word to you in this season is to participate in the "Blessings of Bethlehem" during this Christmas 2013 Season. The Lord has called you to something more than the merely celebrate this blessed season – He has called you to "Participate" in it. He is calling you to come back to Bethlehem and follow the ancient pathway of faith paved for us by Joseph, Mary and Yeshua.

This Christmas Season 'Come Back to Bethlehem" to be re-energized in His Presence so as to receive the promises of your Lord, to recite His promises and respond to those promises in your lives.

I love you all VERY much...Merry Christmas!!!

Your servant-in-Christ... Pastor Moh...