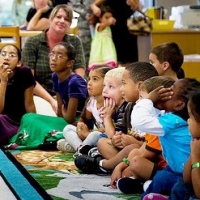 Listening to our Kids
by Pastor Moh | June 25, 2014
Remember the days of old; consider the generations long past. Ask your father and he will tell you, your elders, and they will explain to you Deuteronomy 32:7.
The text instructs children, at any age, to seek the advice from their parents and grandparents—obliging the younger generations to seek the wisdom of those who preceded them.
BUT what happens when the children are not willing to listen to the advice of their elders?
A great parenting lesson comes from the Hasidic tradition. It speaks of a father who comes to his Rabbi, the Baal Shem Tov, with a problem concerning his son. He complains to the Rabbi that his son is forsaking Judaism and all that he had taught him. What should he do? The Rabbi, Baal Shem Tov answers, ″Love your son MORE.″
At the Baptismal Waters of the Jordan River (Luke 3:21-22), the Father tells His Son, the Christ:
"This is my SON in whom I am well pleased."
This affirmation by the Father provides us with simple guidelines for our parenting lifestyle::
You cannot relate to your children if you do not love them in word and action
You cannot expect your children to listen to you if you do not listen to them.
You cannot expect to listen to your children if you are not interested in them.
You cannot be interested in your children if you do not celebrate and affirm them.
The key to all four of these parenting guidelines is to be completely present with our kids in the moment. And this requires that we listen to them with all our heart and soul.
Our pastor often said,
″God gave us two ears and one mouth so we would listen twice as much as we speak.″
″Give ear (Haazinu), O heavens, let me speak; let the earth hear the words I utter!″ (Deuteronomy 32:1). Haazinu reminds us to listen. In fact, haazinu literally means ″to give ear.″ And when we truly listen, we become living models of grace and humility.
Our generation may be able to do "it″ (whatever the "it" may be?) faster, smarter, or even better than those who came before us. But that does not mean that we are better off than our previous generations. We must learn from those who had gone before us, and we must teach our kids how to listen to those who had gone before them. This will provide a spiritual link of wisdom between the past, present and future. My favorite poet William Wordsworth once said,
"Life is divided into three terms - that which was, which is, and which will be. Let us learn from the past to profit by the present, and from the present, to live better in the future."
We do not live in a vacuum. The generations that preceded us, and those who will follow us can only truly be a part of us when we invite them into our lives (Hebrews 11:39-40). We are obliged to look back, open ourselves up, and listen to the wisdom of our roots. At the same time, we are to look forward, and teach our children the wisdom of their fore-fathers and fore-mothers. This provides a spiritual chain-link of wisdom and blessing between the past, present and future.
By the way, the blessing comes into our lives in our generation when we are able to add our own "wisdom-links" to the chain, building on the wisdom our ancestors left for us, and passing it on to future generations.
Adapted from:
Craig Taubman, The Modern Men's Torah Commentary: New Insights from Jewish Men on the 54 Weekly Torah Portions